Serving the Community
Mission 43:6 is lead by Calvary Students with a goal of serving the local surrounding community of our church building, with a full Thanksgiving meal so no one has to go without. We do this with the help of our members and their generosity in giving.
This outreach started in 2020 as a drive through distribution with a goal of 50 bags, and as our church poured in with donations and partnership with Harris Teeter and Beach Ford, we were able to bless 80 families!
In 2021 we raised the bar with a goal of 100 bags, and with the generosity of our church, and by watching God's work and multiply our giving, we were able to feed 120 families of Bettie Williams Elementary School. On top of the bags of food, and gift card, our Heart2Table Ministry prepped and made Homemade Pumpkin Pies! What an amazing blessing!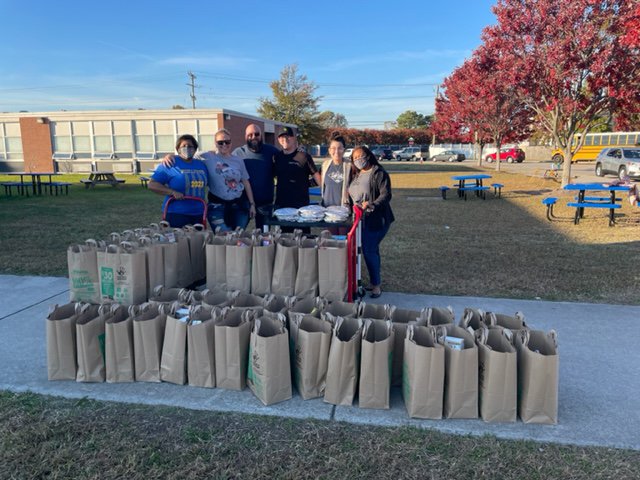 Our 2022 Goal? To feed 150 local families this Thanksgiving!
How Can you Help?
Join us this October as we prepare to FILL A BAG to FEED A FAMILY!
Bags will be available to take starting September 25 and can be returned on October, 2, 9, 16, 23, and 30th, 2022.
There are so many ways you can help support a family – You can grab a bag from the church and fill it up with the ingredients attached to the bag and return it to the church on one of these dates listed above.
-OR-
You can donate money through our PushPay app by clicking below and selecting "Thanksgiving Bags"
Each bag costs approximately $30 per family and for those who want to go above and beyond $50.00 will cover an entire meal.
This includes Sides, Dessert and a 20.00 Harris Teeter gift card for their Turkey/Ham or dairy.
The Story behind the Name: Mission 43:6
Mission 43:6 is based off of the story of Jesus feeding the thousands with 5 loaves of bread and 2 fish. This story is found in the 43rd book of the Bible (John) Chapter 6. In this version of the story told by John, a disciple of Jesus, he speaks of Jesus using a child's lunch in order to feed the crowds. We use this telling of the story because our Student Ministry is leading the way in prayer and service as we serve the community together just like the child willingly gave up his lunch for others.
TAKE THE NEXT STEP WITH US!
Join us on this mission! Join us in the feeding of those in our surrounding community. Take this next step of generosity above and beyond your tithes and let God show you just how powerful your contributions can be. (2 Corinthians 9:7)
For more information please contact our student Pastor at lizbell@calvaryvabeach.org